Thank you for a great 2019 season!
We will open again on June 17th 2020. Taking reservations now for the 2020 season!
The house will be rented as a full house rental in Sept, Oct, Nov, April, May, and the beginning of June.
Don't hesitate to contact us with any questions or reservation requests!
Built in 1849, Pres du Port has been in our family for over 50 years. Aunt Charlotte ran the house as a Bed and Breakfast for over two decades and now, once we have renovated and refreshed all the rooms, we are excited to continue the tradition. The B & B will be open from mid-June to early August and the house is available for rental in the fall.
Perched above the harbor within Stonington village, each room is unique and the views are breathtaking. Walk to everything in town or watch the lobster boats and schooners from a rocking chair on the porch. Come and enjoy the timeless charm of a Maine island community in our family vacation home.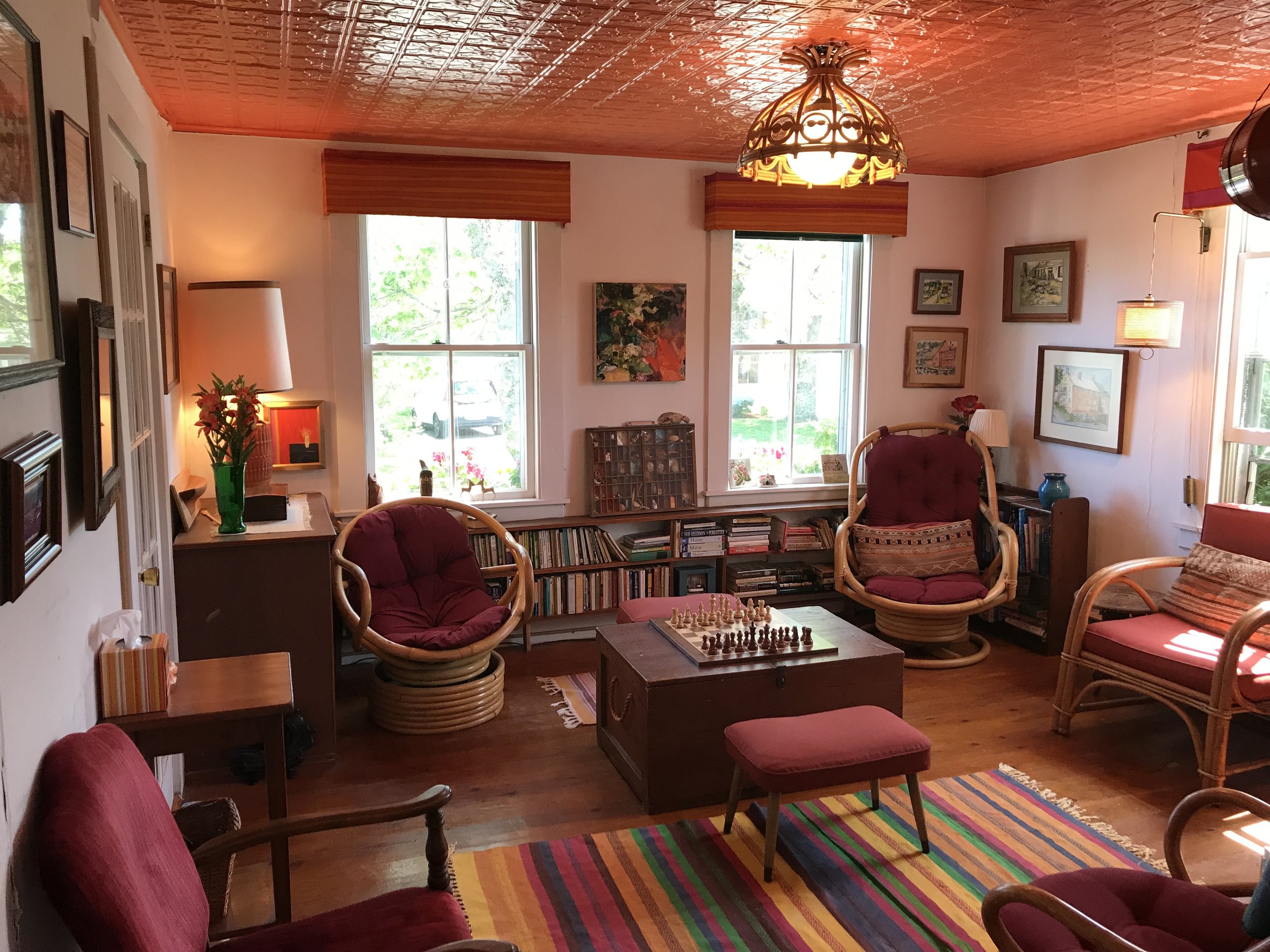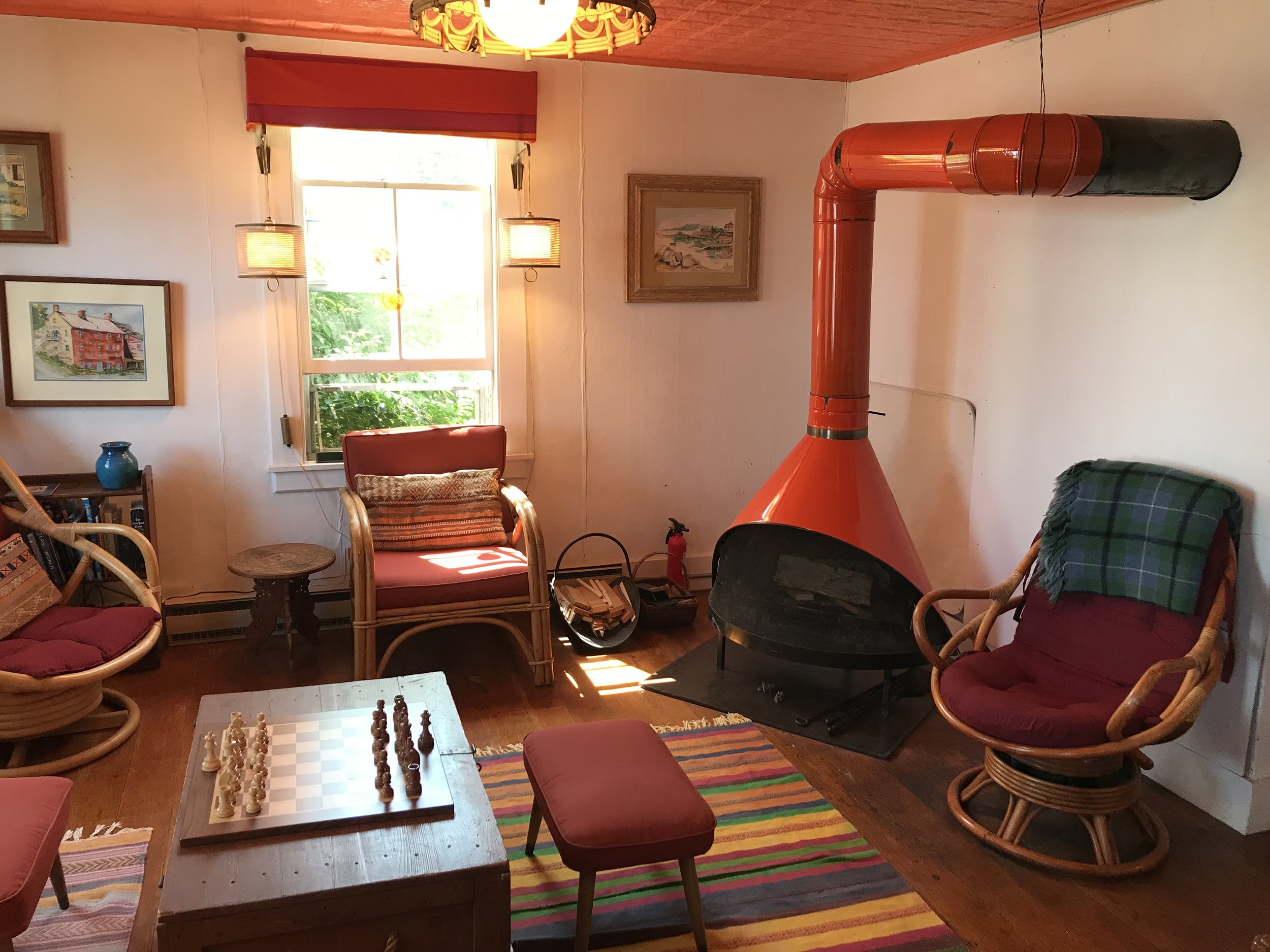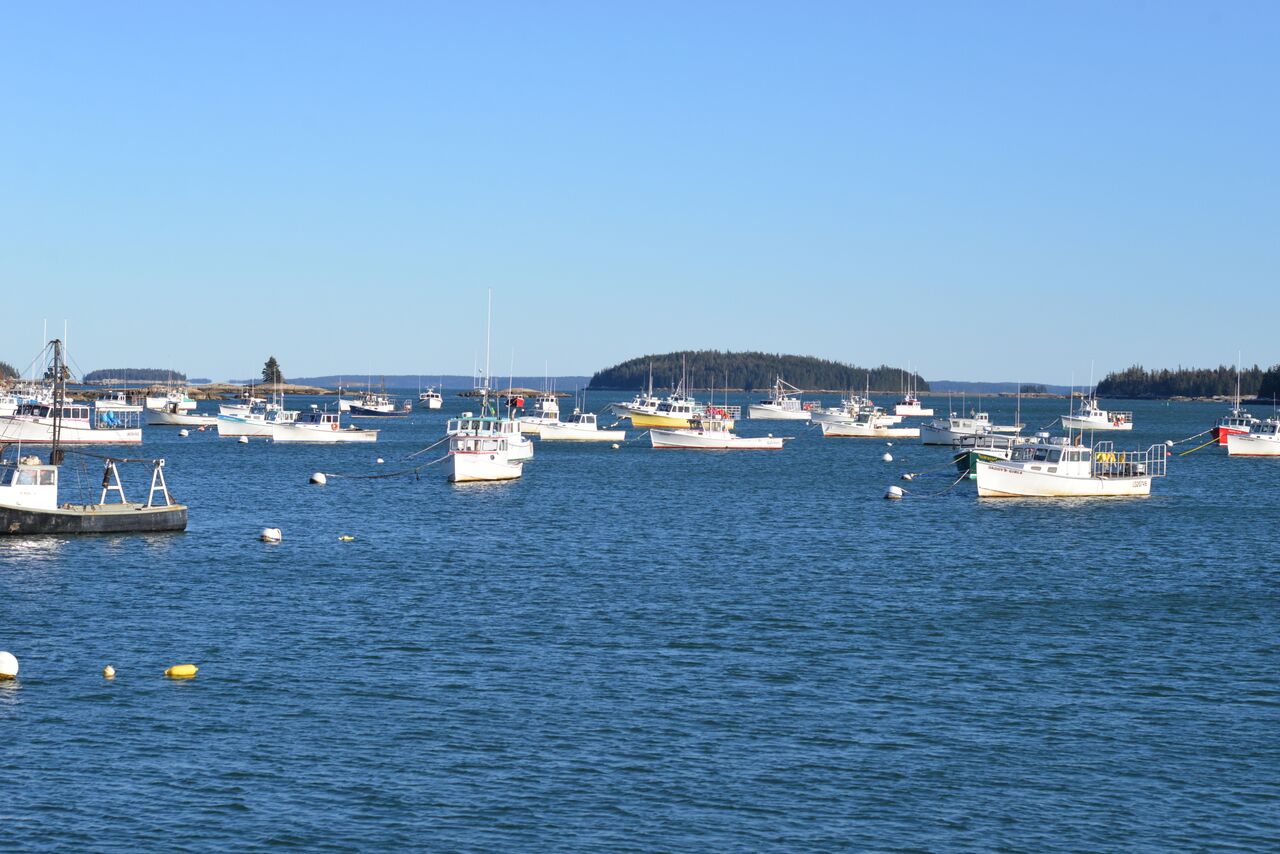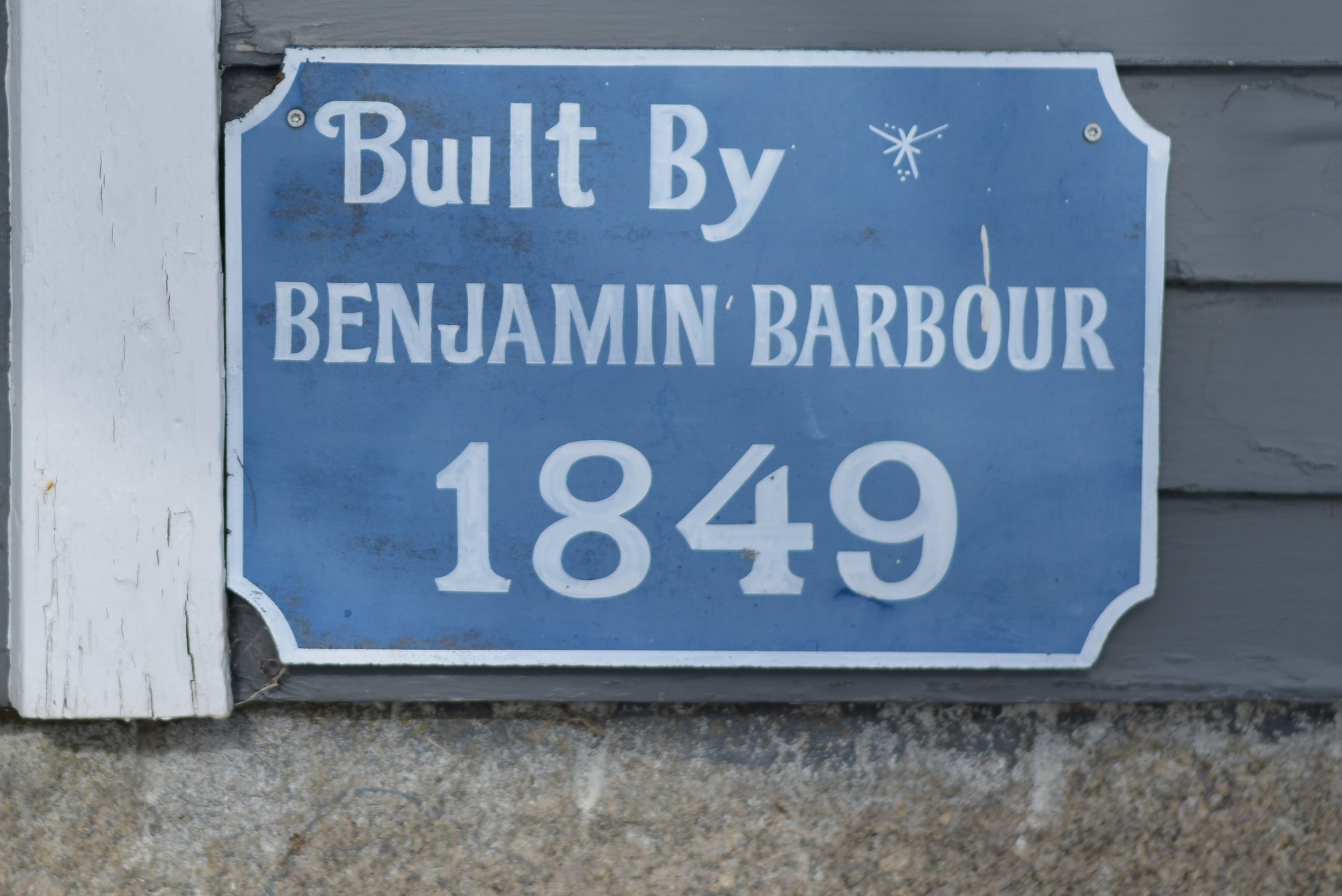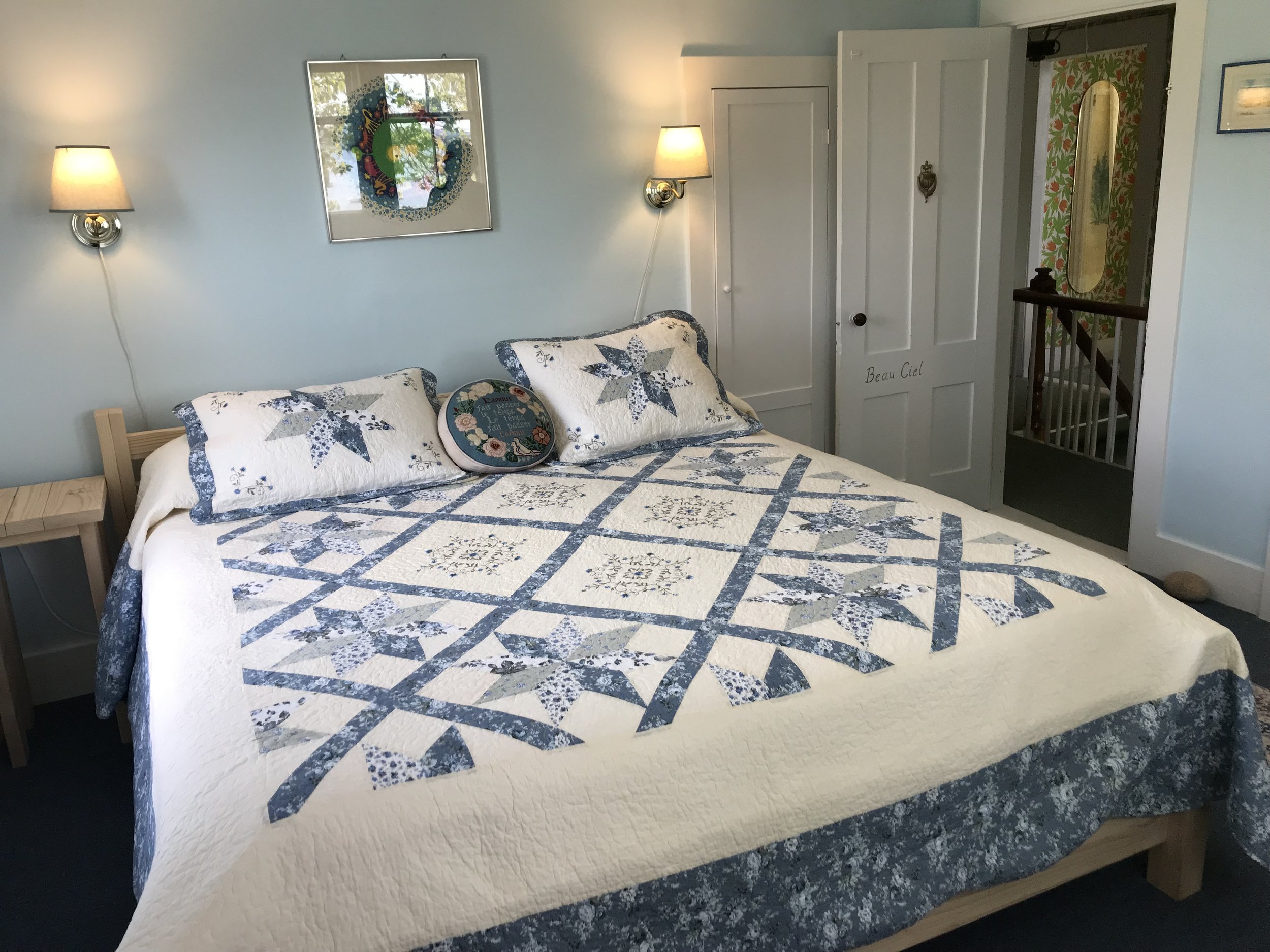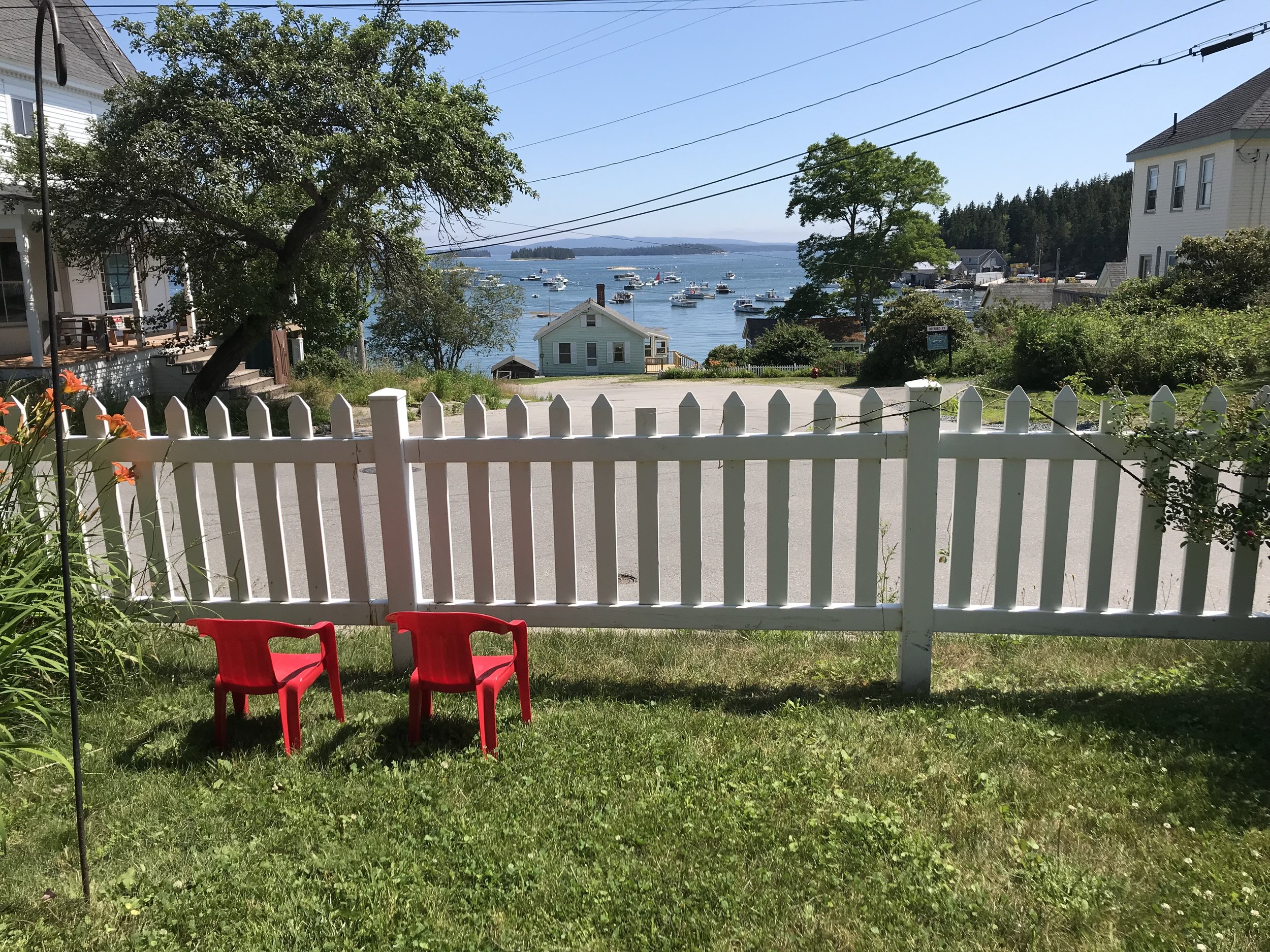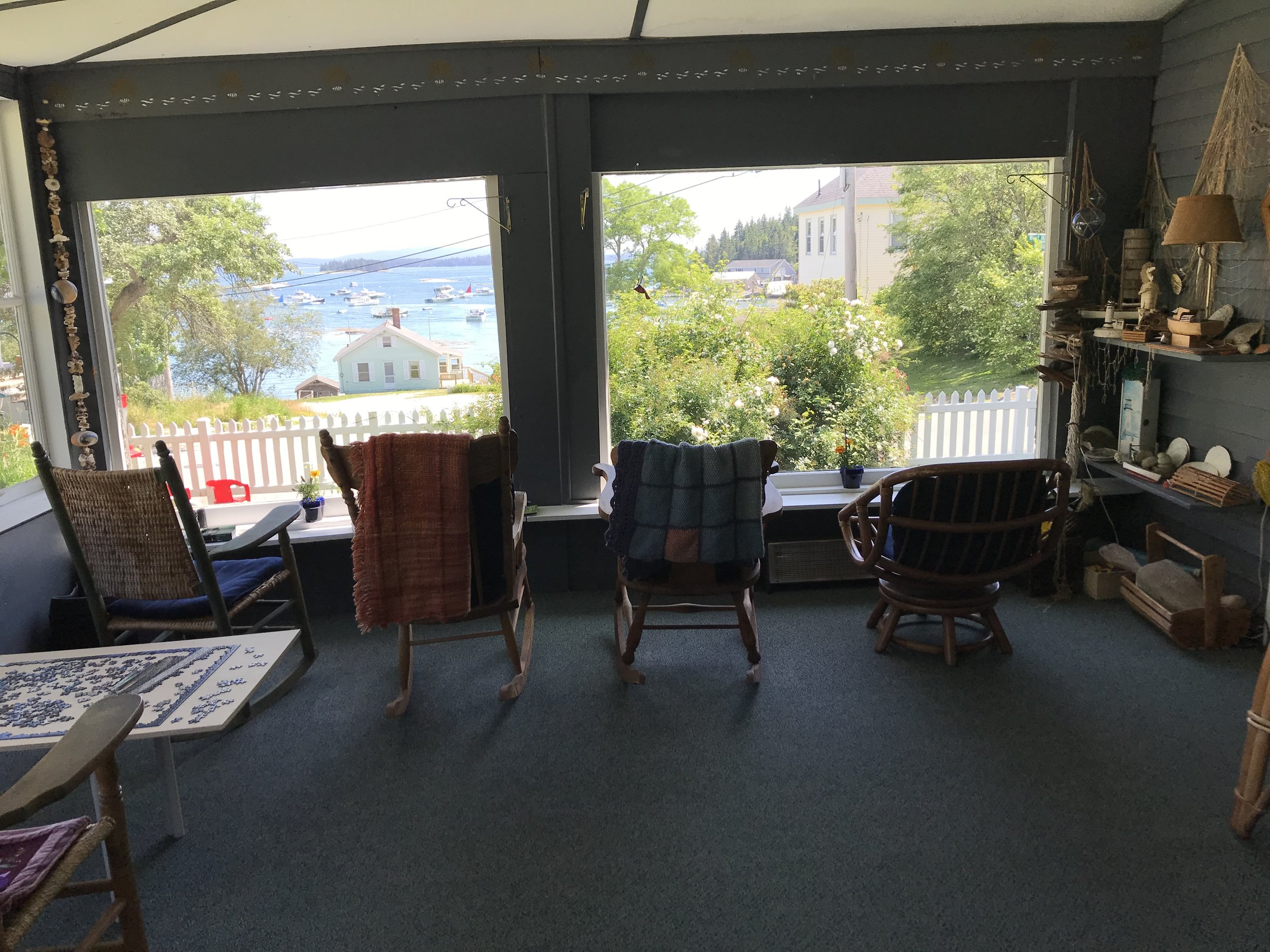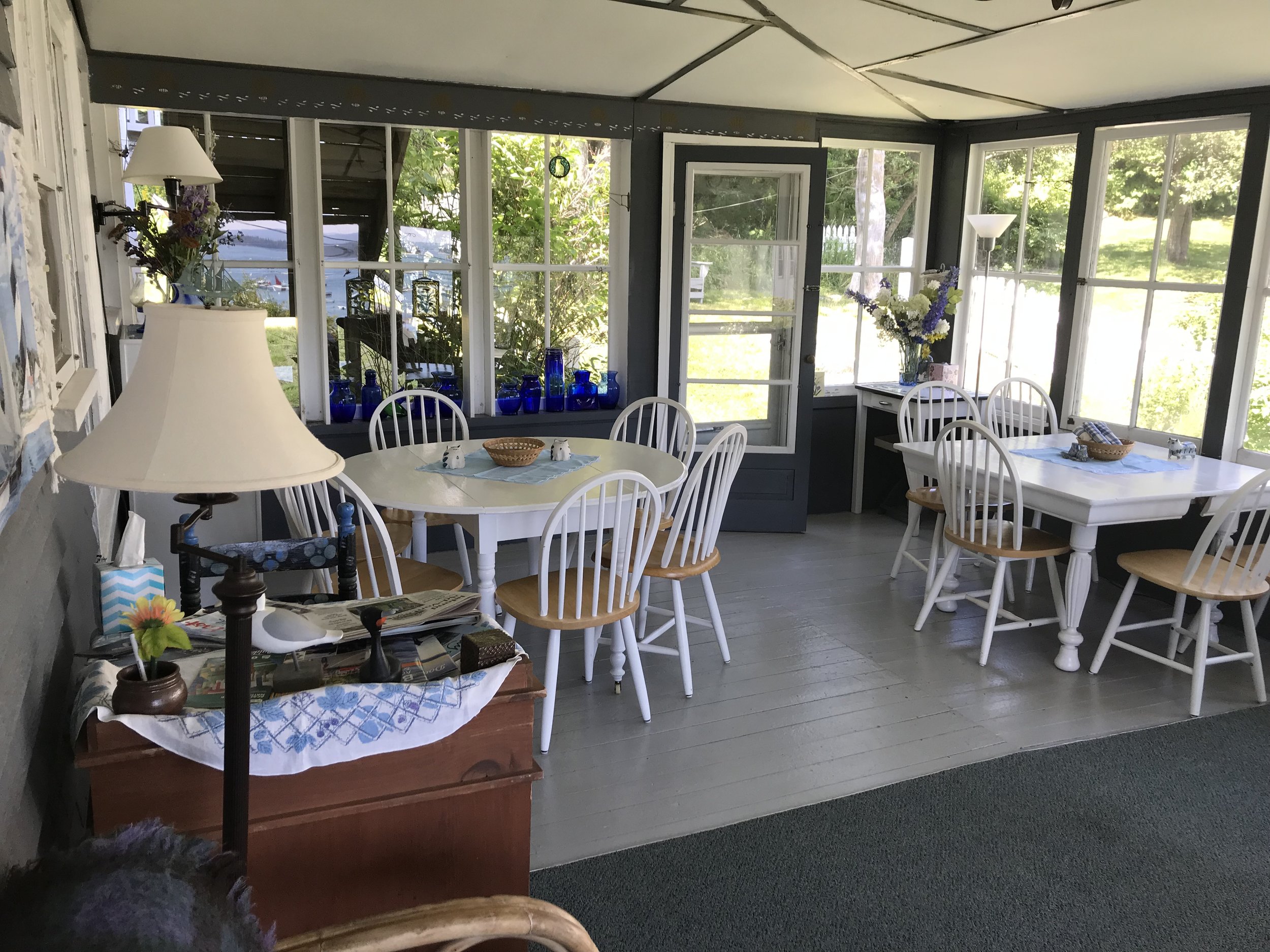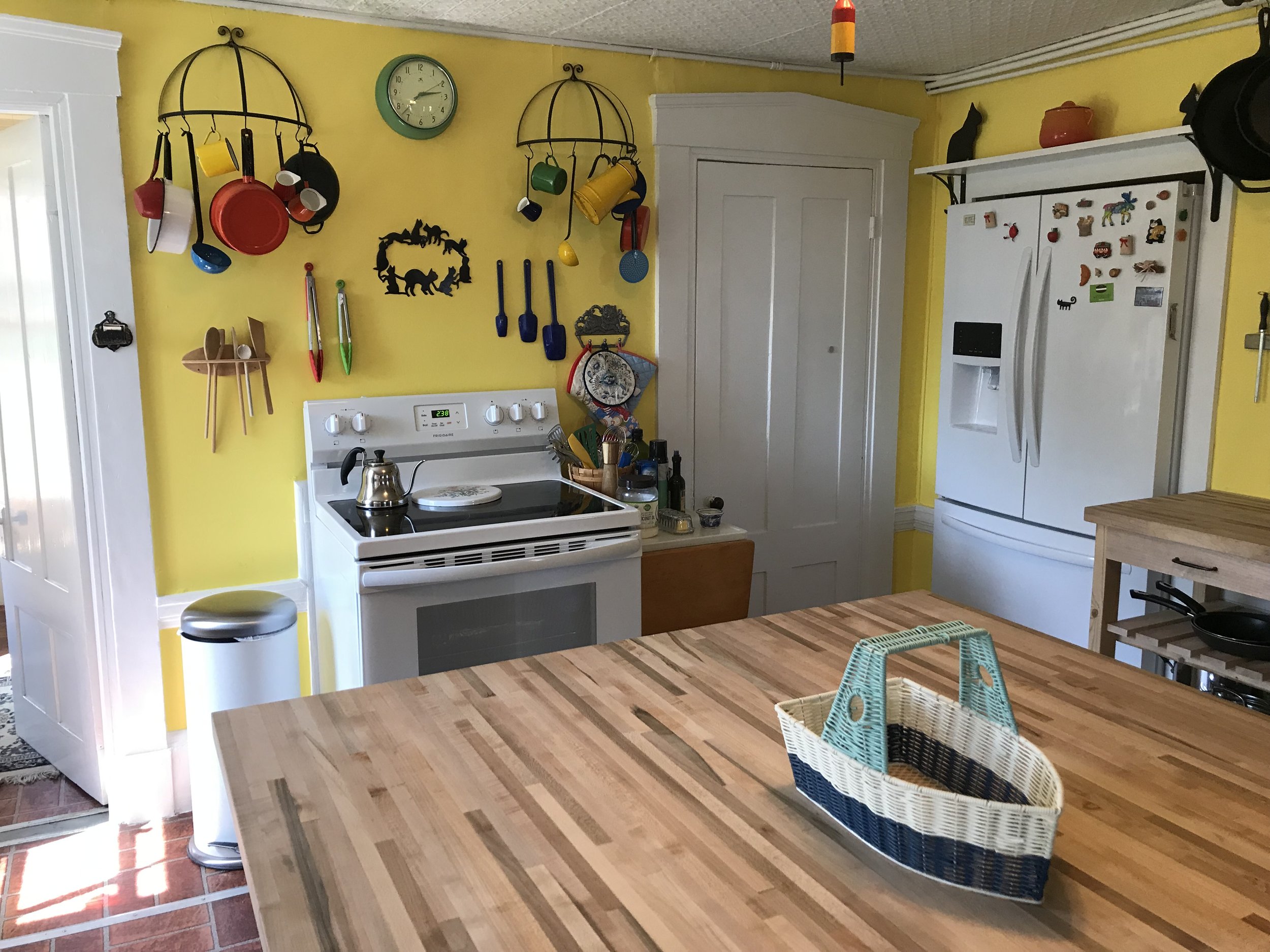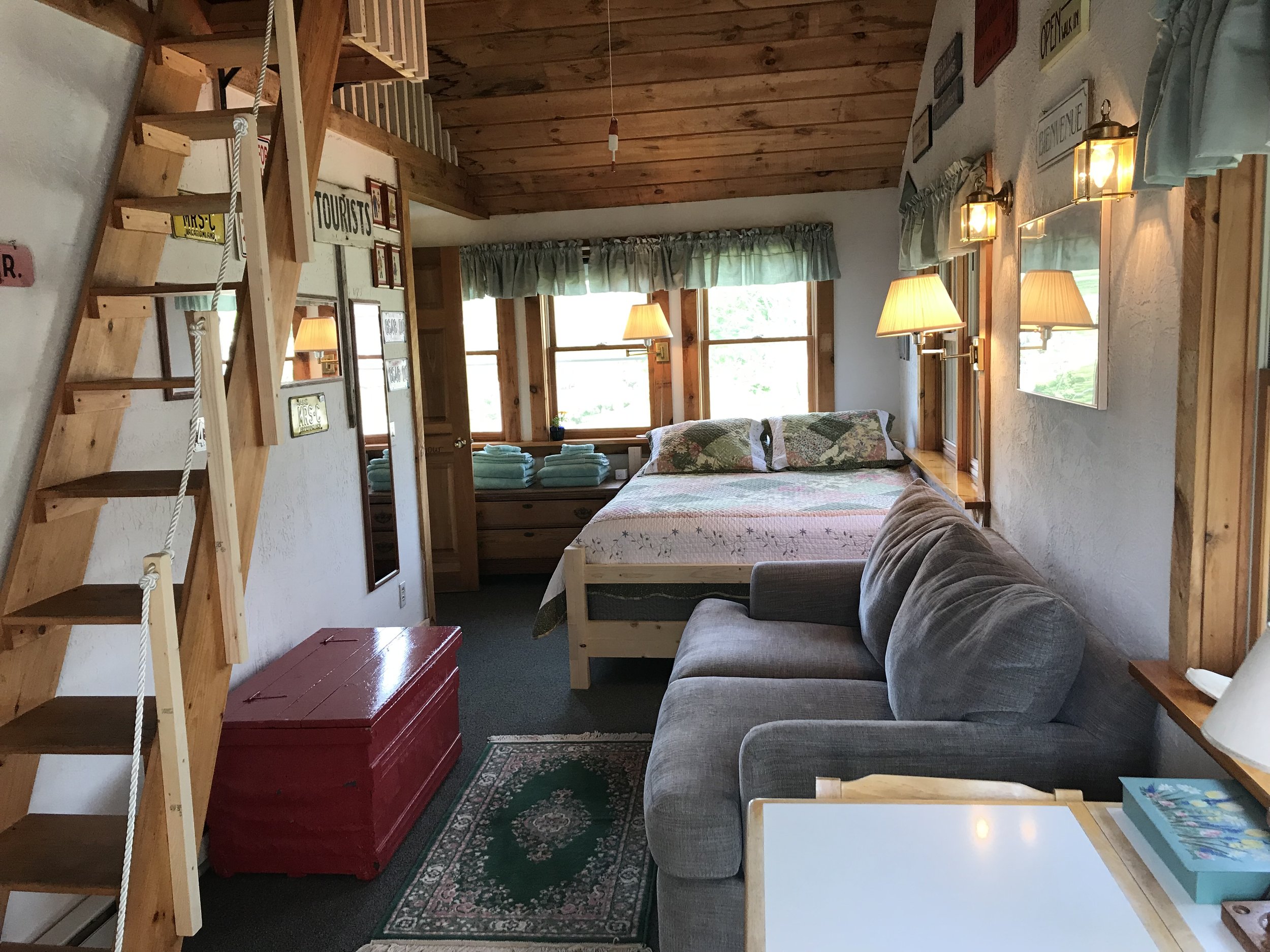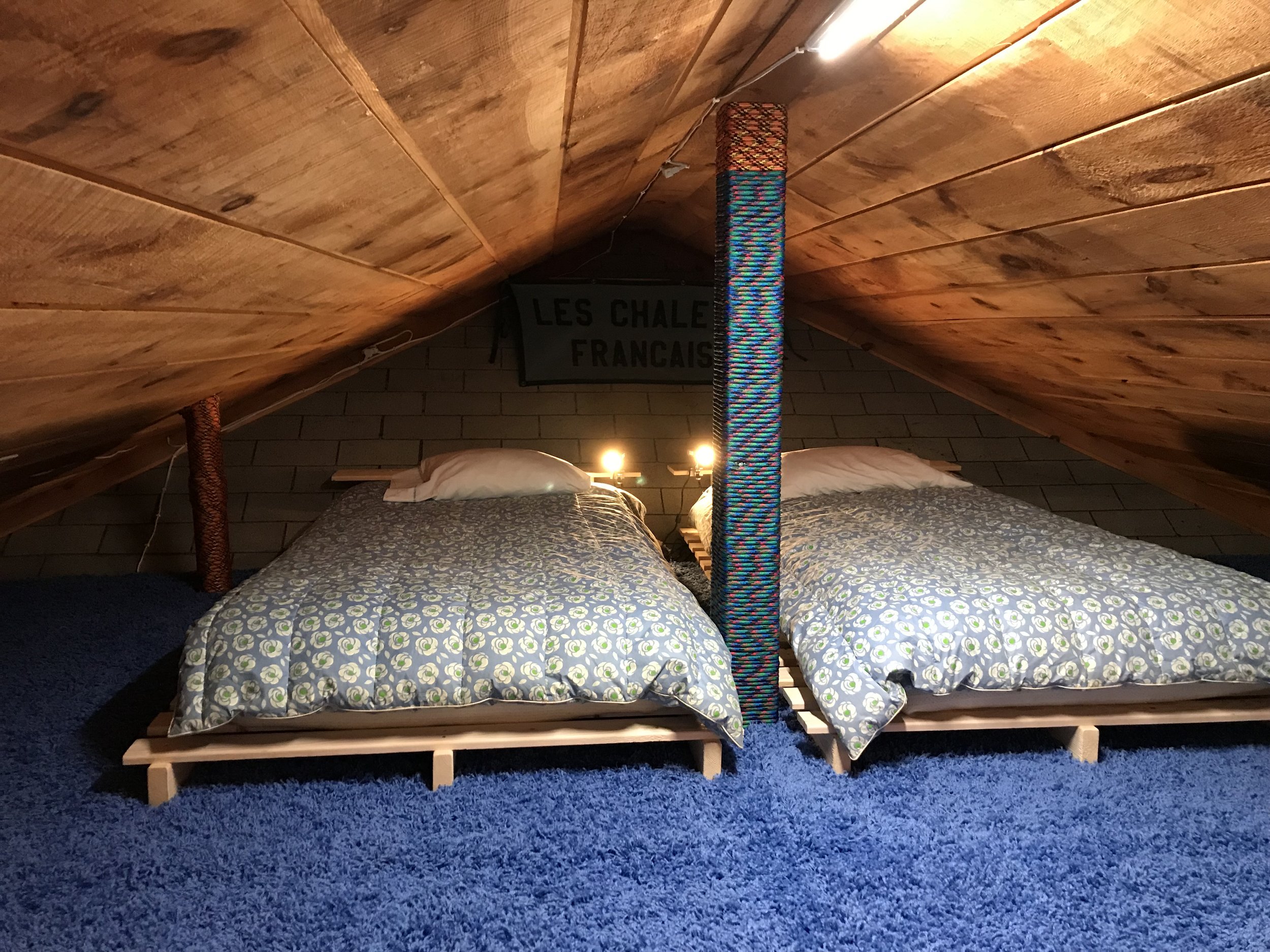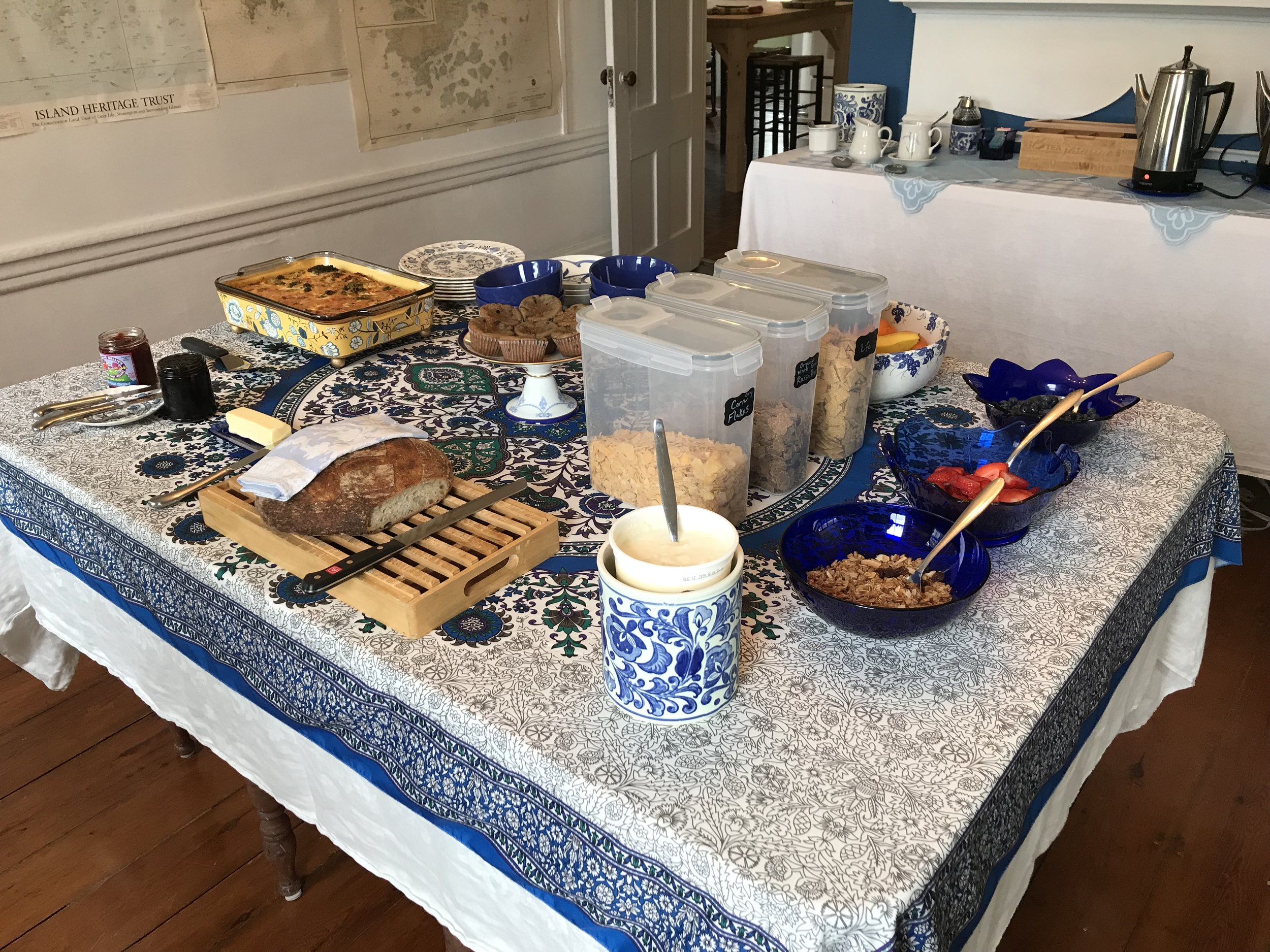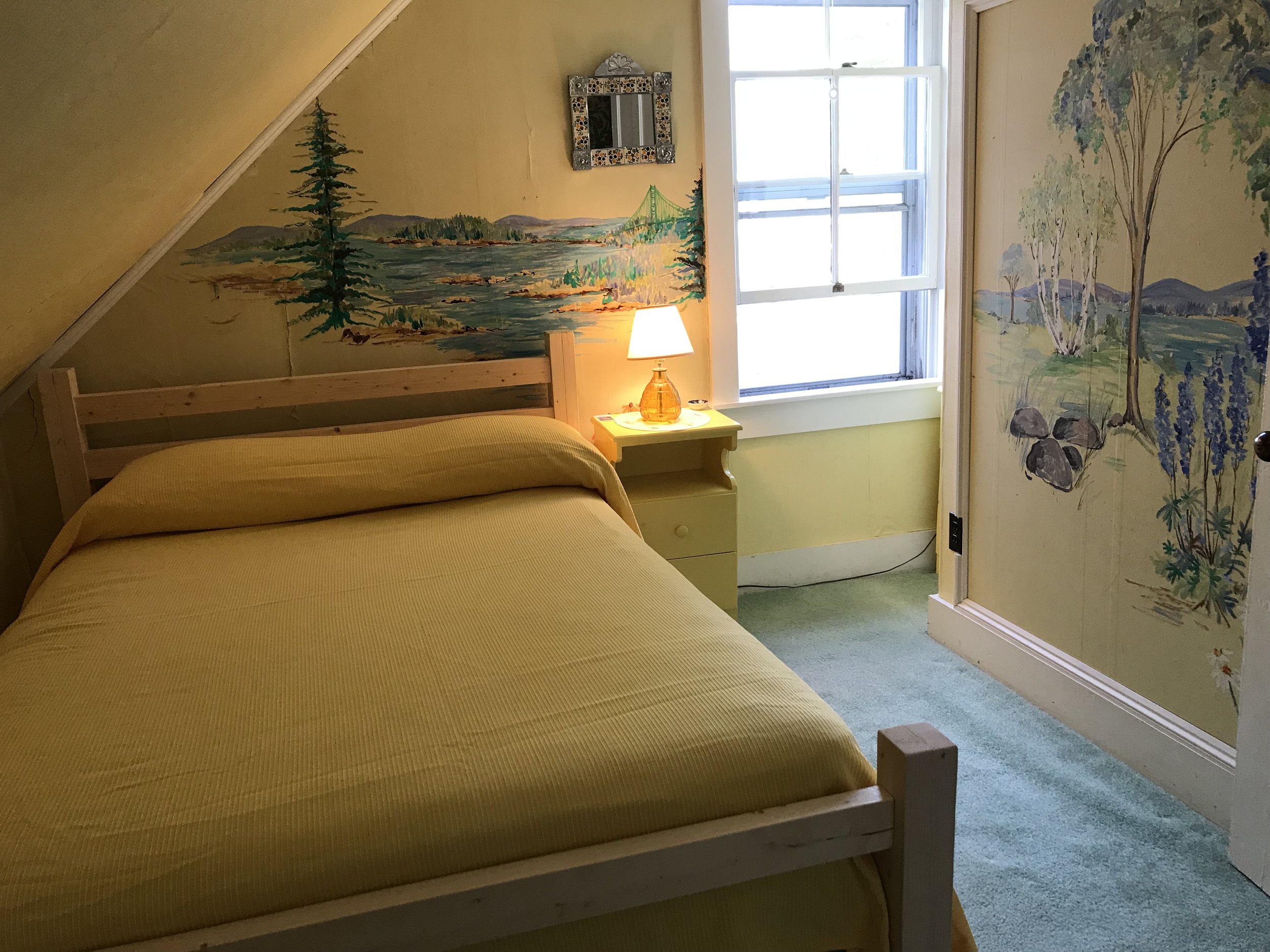 Beau Ciel
A spacious room with both harbor and sunset views, Beau Ciel has a king sized bed and private en suite bath. This room has been completely renovated this spring. Come and gaze at the sea and sky in this corner room.
$175/ night
Beau Sejour
With a private entrance, kitchenette and en suite bath, Beau Sejour has a queen sized bed and a sleeping loft with two twin beds. This room is an addition to the original house, it doesn't have the breathtaking water views but it is great for families or those that want more privacy.
$200/ night
Beau Rivage
With commanding harbor views and an entrance to the deck, Beau Rivage has a queen sized bed and a sink. Although it is a shared bath, this is the room to stay in for those that want to gaze out at sea, morning or night.
$150/ night
Beaujolais
With sunset views and a sloped ceiling, Beaujolais is a smaller room with a full sized bed and shared bath. Simple antique charm. Beaujolais is best for a solo traveler or a couple comfortable with a smaller room .
$125/ night
Beau Pres
With walls handpainted in views of the island by our Grandmother, Beau Pres is a charming but small room with a full sized bed and shared bath. Beau Pres does not have views and is best for a solo traveler or couple comfortable with a small room.
$125/ night
Location
91 West Main Street
Stonington, ME 04681
Contact
(207) 367-5007
PresduPort@gmail.com

Each morning we will be serving up a breakfast feast. When available, food will be locally sourced, fresh and organic. In addition to at least one hot item of egg casserole, crepes, waffles, omelets or pancakes, there will a variety of fresh fruits, breads, muffins, granola, cereal and yogurt. And of course, locally roasted, hot coffee via French-press or pour-over and a variety of herbal, black, and green teas will be served. We are happy to accommodate food restrictions or requests made in advance.
Pres du Port is a special place. We are excited that our old special friends, Matt and Kerry, will be able to reopen the B & B and host new guests this year. Matt and Kerry fell in love with the house and the island more than a decade ago. Matt is a carpenter and over the winter he and Kerry have been renovating and re-envisioning the house. For years in their home in Massachusetts, Matt, Kerry and their two children have hosted touring cyclists but this is their first time as B & B Innkeepers. They see this summer as an opportunity to have the experience of sharing a beautiful island and traveling without actually going anywhere.
On and around Deer Isle
Stonington Opera House - Opera House Arts (OHA) uses the performing arts to foster and promote excellence in all the ways we perform our lives: Incite Art. Create Community. (207) 367-2788.
Old Quarry Ocean Adventures - Old Quarry offers sea kayaking, camping, sailing, boat tours, lighthouse and puffin trips, lobster bakes, rentals, tours and lessons. Seasonal.
Nervous Nellies Jams & Jellies - Whimsical attraction integrates art, food, gifts and local lore. (207) 348-6182.
Haystack Mountain School of Crafts - Haystack is an international, non-profit, studio program in the arts, offering six one- and two-week studio workshop sessions to craft-makers and visual artists of all skill levels, led by prominent faculty artists. (207) 348-2306.
Isle au Haut - An island outpost of Acadia National Park located five miles south of Stonington, Maine. About half the island, or 2,700 acres, is in park ownership. Seasonal.
Isle au Haut Ferry - A year-round scheduled passenger and freight service between Isle au Haut and Stonington with seasonal service to Acadia National Park landing at Duck Harbor. (207) 367-5193.
Acadia National Park - Venture to the rugged coast of Maine—replete with volcanic rocks and crashing waves. Seasonal. (207) 796-2500.
Island Heritage Trust - A non-profit private land trust dedicated to conservation that protects significant open space, scenic areas, wildlife habitats, natural resources, and historic and cultural features on Deer Isle. (207) 348-2455.
Deer Isle-Stonington Chamber of Commerce Events Calendar - Year round information for island specific events.
Community Calendar - Year round information for the Blue Hill Peninsula region.
The Stonington Public Library - Strives to inspire, enlighten and enrich all members of its community by providing excellent services and facilities that connect them to books, information, and ideas needed for work, recreation, and education. (207) 367-5926.
Local Restaurants
On Island
Aragosta - Farm to table dining overlooking Stonington Harbor. (207) 367-5500
*Open year round, but check for winter hours.
Stonecutters Kitchen - Shorefront casual dining. (207) 367-2530
*Open year round, but check for winter hours.
Harbor Cafe - Local casual dining. (207) 367-5099
*Open year round, but check for winter hours.
There's A Treat - Pub style traditional American & seafood. (207) 348-3116
*Open year round, but check for winter hours.
44 North Coffee - Fresh ethically sourced coffee by cup or beans. (207) 348-5208
*Deer Isle location open year round, Stonington location open seasonally
Stonington Ice Cream Company - Ice cream, sandwiches, summer soups, and lobster rolls. (207) 367-2900
*Open seasonally
Cockatoo Portuguese Restaurant - Portuguese dishes of seafood and prime meats. (207) 348-2300
*Open seasonally
Madelyn's Drive Inn - Drive in or take out. (207) 348-9444
*Open seasonally
Old Quarry Ocean Adventures - Lobster Bakes. (207) 367-8977
*Open seasonally
Off Island
Arborvine - Located in Blue Hill. Fine dining. (207) 374-2119
*Open year round, but check for winter hours
Deep Water Brewing Co. - Located in Blue Hill. Micro Brewery. (207) 374-2441
*Open year round
Brooklin Inn - Located in Brooklin. Organic produce and organic Maine-raised beef, lamb and poultry, fresh seafood. Dining room and Irish. (207) 359-2777
*Open year round, but check for winter hours
Mariner's Pub - Located in Sedgwick. Family style pub fare. (207) 359-2210
*Open year round, but check for winter hours
Marlintini's - Located in Blue Hill. A neighborhood bar & grill. (207) 374-2500
*Open year round, but check for winter hours
El El Frijoles - Located in Sargentville. California style Mexican food. (207) 359-2486
*Open year round but check for winter hours
Barncastle - Located in Blue Hill. Wood-fired pizza and both traditional Italian cuisine and New England comfort food. (207) 374-2330
*Open year round
Tasha's - Located in Sedgwick. Traditional American Take-Out with mini-golf & driving range. (207) 359-6788
*Open seasonally
Specialty Foods
Red Barn Farm - Fresh goat cheese (variety of flavors), goat yogurt, chicken eggs, and live lobster. (207) 367-5100
* Open year round, but check for winter hours
Atlantic Holdfast Seaweed Company - Sustainably hand-harvested sea vegetables from the Gulf of Maine (207) 409-4235
Coldwater Seafood - Market and Smokehouse. (207) 348-3084
* Open year round, but check for winter hours
Greenhead Lobster - Direct source year round for lobster. (207) 367-0950
* Open year round, but check for winter hours
Stonington Lobster Co-op - Fresh lobster from right off the dock (207) 367-2286
* Open year round, but check for winter hours
Jones Lobster - Fresh seafood. (207) 348-6768
* Open year round, but check for winter hour
Stonington Farmers Market - Fresh native produce, meat products, local seafood, cheeses, specialty foods and bakery goods but also a variety of fine artists, craftspeople, and community organizations.
*Open seasonally
Deer Isle Night Market - An evening market and gathering place. Local food and produce.
*Open seasonally
Blue Hill Co-op - Healthy, high quality, local-when-available products.
* Open year round, but check for winter hours
Tinder Hearth - Wood-fired, European-style breads and pastries that can be found at various regional locations. Serves pizza on Tuesdays by reservation only at their Brooksville bakery. (207) 326-8381
* Open year round, but check for winter hours
Yellow Birch Farmstand - All-natural creams, goat milk soaps, yogurts, cheeses, cajeta, cookies, blueberry balsamic vinegar, and gift baskets, as well as fresh organic produce.
*Open seasonally
Galleries
On Island
Alfred's Roost -Imaginitive Art Gallery & Studio. (207) 348-6699
Artisan's Market - A mix of art, jewelry, wearables, sculpture, and home decor. All items sold by the artisan themselves. (207) 348-6294
Beckman Studio - Studio and gallery featuring hand editioned prints and custom lamp shades. (207) 367-5037
Clam Factory Gifts - Gift shop, photography, handmade hats & mittens, cross stitch samplers and patterns, hand painted wooden items. (207) 367-2282
Deer Isle Artists Association - DIAA is a member run art gallery and is committed to promoting the studio arts through exhibits, education & community. (207) 348-2330
Frederica Marshall Studio - Gallery, art school. (207) 348-2782
Greene Ziner Gallery - Decorative and sculptural clay, and artistic metalwork, including functional and imaginative. (207) 348-2601
gWatson Gallery - Fine art gallery. (207) 367-2900
Hutton Gallery - A fine art and craft gallery. (207) 348-6171
Islands Boutique Gallery - Water colors. (207) 702-0150
Jill Hoy Gallery - Art gallery of plein air oil paintings based on an overview of the peninsula concentrating on the island. (207) 367-2777
John Wilkinson Sculpture - Sculpture. (207) 348-2363
Kingman Gallery - Maine fine art photography. (207) 348-9333
Lorraine Lans Studio and Gallery - Landscapes and portrait paintings. (207) 367-8959
Marlinspike Chandlery - Fancy decorative ropework for boat, home, nautical art, jewelry. (207) 460-6034
Michele Billings Gallery - Oil paintings of Maine. (207) 348-5299
Mozelle Fine Jewelry - Fine jewelry designed and handmade. (207) 460-2329
Nervous Nellies Jams & Jellies - Whimsical attraction integrates art, food, gifts and local lore. (207) 348-6182
Outcast Studios LLC - Studio with welding, metal fabrication, foundry services, custom work. (267) 242-1332
Owl Furniture by Geoffrey Warner - Ergonomic furniture for sitting and standing, hand crafted in Maine, custom design furniture. (207) 367-6555
Prints and Reprints - Used books, framed art and antiques. (207) 367-5821
The Turtle Gallery - Fine art, sculpture and craft. (207) 348-9977
Susan Webster - Print drawings, collaborations. (207) 266-3549